New: We have moved the samples of the REMOVED sets to another page so you can see what you have missed.
Click here to see the older updates that are now GONE
All removed sets and movies will appear on www.wetlookstore.com in the future.
To see the free sample movies, check out our YOUTUBE channel
These sets are currently online in the members-area:

Desiree tries to go down in quick sand, but somehow that doesn't really work out. So she just gets dirty with the top layer.

Chrissy in Diesel jeans works up a sweat in a mud pit and loves to show!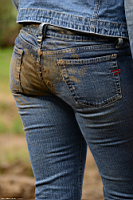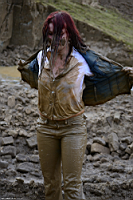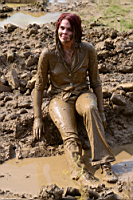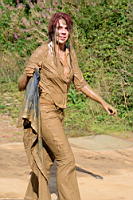 Movie of Eileen and Mike going totally at it! They cover each other full in this great, sticky mud!

Lovely Louise in an Adidas trainer gets muddy

Movie of naughty Chrissy creating her own mud pit and covering everything.

Movie of Patricia in an amazing set, where she slips and slides in wet mud, enjoying herself so much!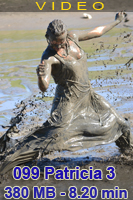 By request, Louise wears a velvet skirt, velvet blouse and velvet headband with even a velvet necklace..
Guess the theme here is... velvet :-)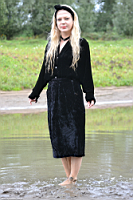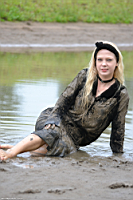 Superb movie of Eileen and Mike, they jump and play in the perfect clay and have fun going face-first all in!
He is wearing a baggy pants with guns-n-roses T-shirt under a jeans shirt, plus sneakers and socks he loses in the mud.
She came in a red denim pants under a black shirt, wearing brand new ES skater shoes that got stuck as well!
You can also check out the demo-clip at our youtube channel!


(also pay-per-download at www.wetlookstore.com)
Very long movie of Daphne in an intimate mudding session. She chats and laughs
and enjoys playing with the mud, even it's a bit cold outside...


(also pay-per-download at www.wetlookstore.com)

First movie of Deveny, a chubby girl that really enjoys the mud because, as she tells you herself,
she always liked to jump in the mud but was never allowed :-)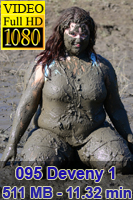 It's still october, so here is, especially for the OktoberFest.... Louise in a dirndl in mud.... Lovely set!

Movie of Eileen and Mike, first they climb on a heap of sand and roll down, then they experience walking on quicksand

Unintended mud shoot with mature Esther, she found some clay during her bikini shoot and decided it would be good for her skin :-)
Our video-lady joined in at the end ;-)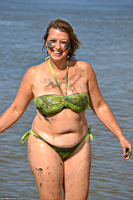 Movie of Melanie taking dives in the mud and sliding, splashing and enjoying it!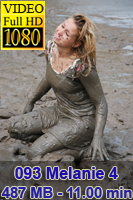 Cute Eileen paints her white dress with Mudmodels and then takes a full mud bath!

She is so happy in the mud! Patricia splashes, jumps, laughs and dives head first into the mud! Fantastic movie.

Great movie of Nienke in a shallow mud puddle getting completely covered!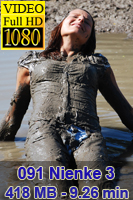 Very pregnant, very private set of Maud enjoying her time in the mud!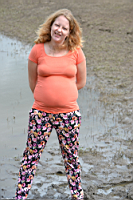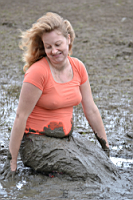 Movie of Sylvie, carefully making her own mudpit in a very dry area, and playing in it in a short black dress

Movie of Eileen in a red pullover posing in the mud until she's all dirty :-)

Deveny and Chrissy get completely mudded!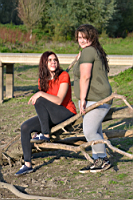 Desiree in quicksand wearing skirt, jacket and blouse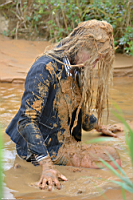 A good movie of Laura in a sleeveless bomber over a blouse and tight pants...
She gets herself so very nice covered in mud!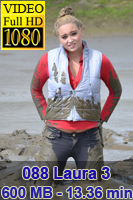 HUGE set of Patricia and Melanie having a very special wedding..
From beginning till the end it's just one big laughing, messing and great happening!
Please note that this set will only be available in the members-area for a limited period of time,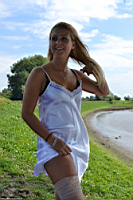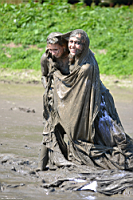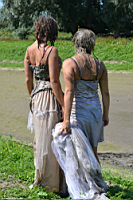 Chrissy in c-thru white outfit gets muddy and washes it, trying to get it clean again...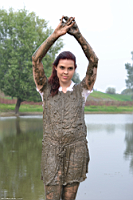 Movie of lovely Veronique in denim shorts and her fathers pullover. She gets dirty! :-)

Eileen is very happy in her white pants and wool pullover, especially after she gets muddy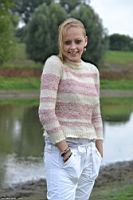 Movie of Melanie in pink Adidas jacket running around in the mud to get herself dirty

Deveny is a cute girl with baggy pants and a taste for mud!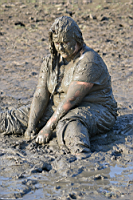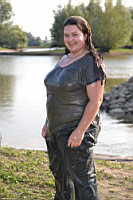 Pregnant Daphne came out in an all white outfit and bare feet to have some mud fun! :-)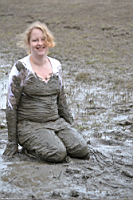 `Movie of Tanja in white skirt, white shirt and white vest, and some revealing at the end

Chrissy in a pink dress and little heels plays dirty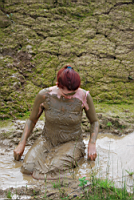 Superb set of Eileen in a mint dress with many layers, a good sample of 'trash the dress'!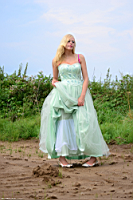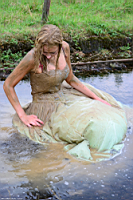 Movie of pregnant Daphne in all white outfit on bare feet!

Army-babe Sietske in combat wear getting all muddy, she takes off her coat half way to get her shirt done as well.

Movie of Melanie in a summer dress rolling around on a muddy shore and doing her belly-slide

Chrissy in short jeans, Converse and a sleeveless downjacket over an orange shirt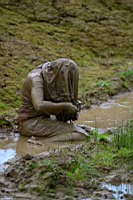 Deveny is a lovely big girl and she enjoys the mud as you would!!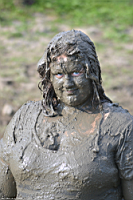 Eileen in white pants (well, at least the first few seconds) and a sleeveless jacket (daunenjacke) over a blue pullover.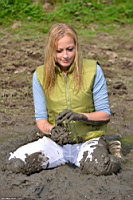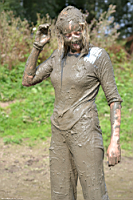 Great movie of lovely Nienke on Adidas sneakers and an only jeans which she rips to shreds.
Also a nice hoodie over a shirt. To see a 3-minute demo on youtube click here!

Chrissy is wearing a tight jeans pants and jeans jacket over a white blouse without bra.
She has fun jumping, diving and rolling around in the mud!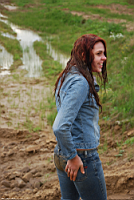 Such a gorgeous and willing girl and not enough mud to be made! Scraping she managed to created
some dirt but she looked forward to rolling in the deep mud which simply wasn't there that day.
But still, very nice clothes to see naturally played with in the dirt :-)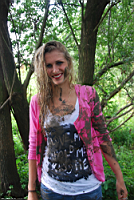 Movie of Silvie in black dress getting herself dirty in a self-made mudpit

Eileen in jeans jacket which she takes off to get herself even more muddy, she really enjoys it :-)

Movie of Lieneke in jeans and a shirt under a vest, which she takes off halfway

Eileen in jeans and red shirt under a blue body warmer.
This actually body-warmer is for sale, so write to info@mudmodels.com if you are interested.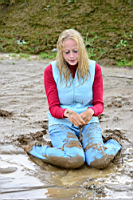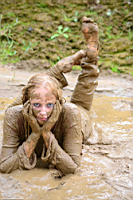 Desi in D&G jeans and a hoodie gets herself completely covered in mud, very nice.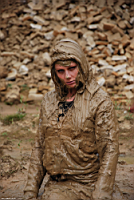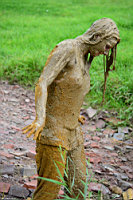 Movie of Melanie in jeans playing around in the mud, she poses and does some sliding :-)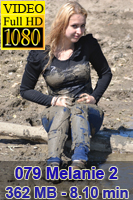 Eileen in red shirt gets her pretty looks covered in mud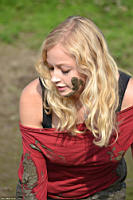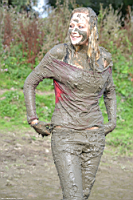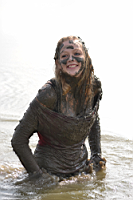 Deveny diving face first in the wet mud, her sheer dress soon is covered in mud!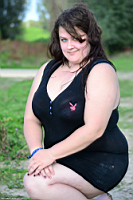 Movie of Veronique, a very fun girl with long hair, running and playing in great mud!
Doing a belly slide, getting dirty for the first time and washing it off.

New babe Desiree came to do some mudding, but one our way to the mud-location we came across this great piece of quicksand!
Sandy fun is good fun as well! :-)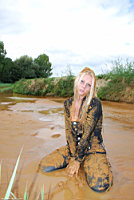 Unexpected.... Janny came to do a wetlook-shoot, but she stepped into some clay and decided it would be fun to play with it.
Not a real mud-diving-set, but very natural and spontaneous makes it even better :-)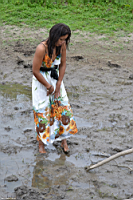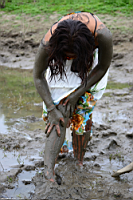 Just shot yesterday, this new girl Deveny is really enjoying herself in the mud!
She told us she loves the feeling, as she wasn't allowed to do this when she was a kid :-)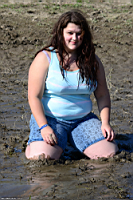 New girl Eileen in a smashing jeans outfit wades in thin mud and merges herself under the mud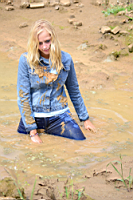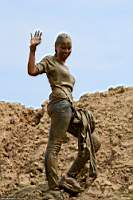 Gorgeous but just a little bit mud... Yael came to do a mudshoot but due to flooding our whole area was covered in water.
She was very forthcoming, trying to make her own mud, but it just wasn't enough to roll in....She will come back soon!

Tanja, aka Abby Winters' Iskra in a pink gypsy wedding dress in some sandy mud shows her dress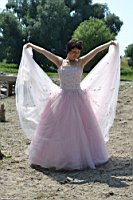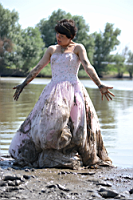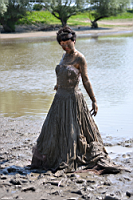 Patricia in a fantastic black dress, elegant even when covered in mud! Very big set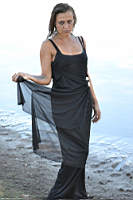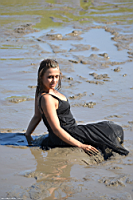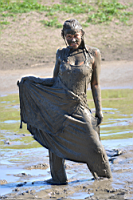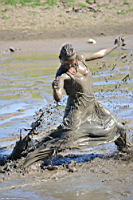 Laura in an exclusive wedding dress complete with shoes, pantyhose, veil, gloves and a whole lot of mud! :-)

New girl Daphne is a real wamfan, but she never tried mud before. So we invited her to our mud pit and have a taste.
Well, she loved it so much, she even ripped her white clothes off to feel the scrub on her skin!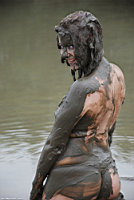 From pretty blonde to mudmodel, new girl Laura has fun in the wet muddy swamp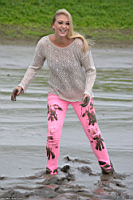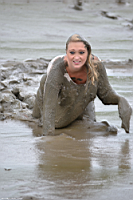 Sylvie in black dress creates her own mud hole and covers herself completely before washing it off again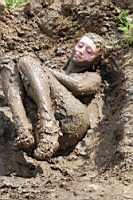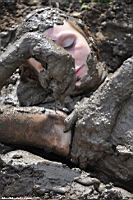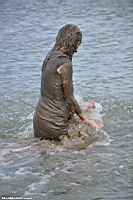 Melanie in floral shirt and jeans gets muddy, then takes off her shirt and gets even more dirty!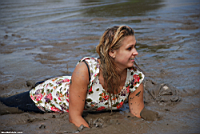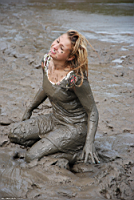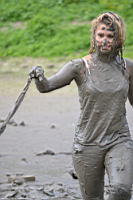 Trash the dress: Mandy is wearing a shiny white weddingdress with 6 layers, gloves, jewelry, matching shoes and a tiara!
She obviously enjoys it very much! It's a nice way to do something creative, so if you have your dress still hanging around somewhere,
let us do something funny with it! Write us :-)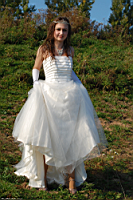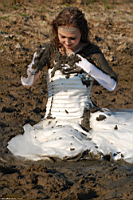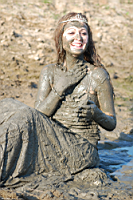 Pink top and dark jeans on Veronique to get her nice and muddy in!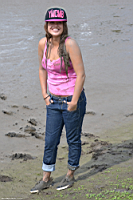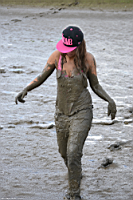 "Here's another fine mess you got us into!"
Our friend Daphne had a mud shoot when she noticed another girl we had with us for something else.
Interested in her and the experience of girl/girl mudplay, she asked Mandy if she wanted to 'assist her' in poring vegetable oil over her.
Hm hm.. soon they got each other oily and when it started to rain, there was enough mud to go around!
Notice how Daphnes white shirt hardly gets stained because of all that oil! Great set of two great girls.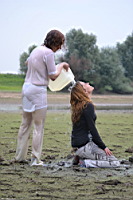 Veronique in skirt and jeans top in great wet mud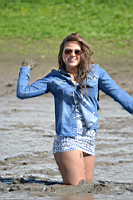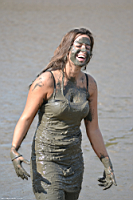 Melanie in a pink Adidas jacket and shorts puts wet mud over her clothes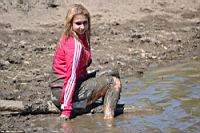 '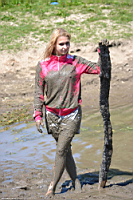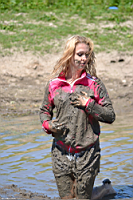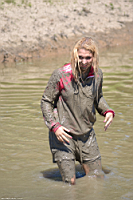 Valerie and Leonie in plaid skirts and little black tops play and (friendly) fight in the mud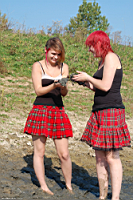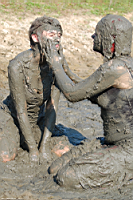 Naughty Daphne is back! She is one hell of a mudmodel! She first has a fag, then takes a big leap and splashes into the mud!
At the end she takes off nearly all her clothes to get completely muddy for you.

Patricia is very wild in good mud! She is wearing a ass-enhancing jeans with a vest made of wool and denim.

Lieneke in Only jeans and sweater with a white tanktop underneath enjoys a good mud bath in the sun!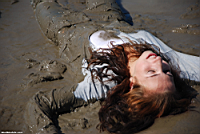 Very big set of very muddy girls Amber and Jessica.
They play and fight getting all covered in good mud!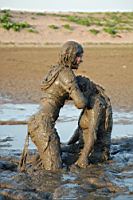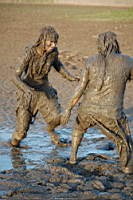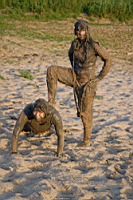 ---