HOME | UPDATES | JOIN | MEMBERS | LINKS
Updates every week! - There are 23 movies available for download
24 movies have just been taken offline and will reappear in a few weeks at www.wetlookstore.com
We remove older sets, so join if you do not want to miss anything in the future!
Movie of Patricia, diving face forward into great clay mud, and having big fun!!

Melanie in floral shirt and jeans gets muddy, then takes off her shirt and gets even more dirty!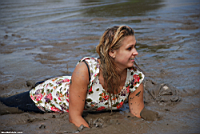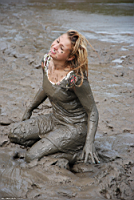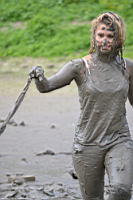 Very nice movie of Nynke, wading in a dried up lake.
She soon gets herself all muddy and makes interesting moves in the thick mud.

Trash the dress: Mandy is wearing a shiny white weddingdress with 6 layers, gloves, jewelry, matching shoes and a tiara!
She obviously enjoys it very much! It's a nice way to do something creative, so if you have your dress still hanging around somewhere,
let us do something funny with it! Write us :-)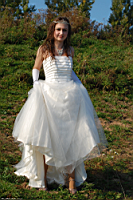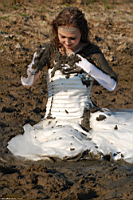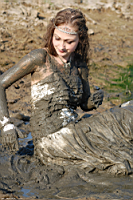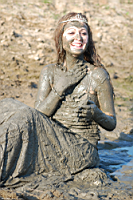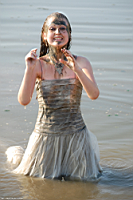 Movie of blond Silvie in a jeans, purple underwear and a pink shirt, making her own little mud pit to lay in.
Also with the washing up part at the end, soaking the mud out of her clothes.

Tess and her friend Valerie get romantic while getting mud on their jeans pants...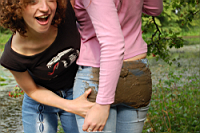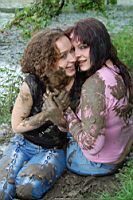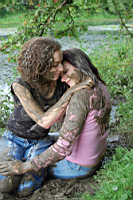 And another movie: Russian student Tanja thought she came to do a glamour shoot.
Hmm, well, we forgot to mention it was in the mud :-) A lot of scary faces, but she got muddy nonetheless

Movie of Laura, taking a walk in good, soft mud. Her pink pants soon get covered, as does her sheer pullover.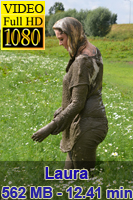 Pink top and dark jeans on Veronique to get her nice and muddy in!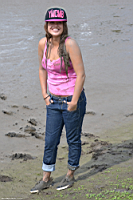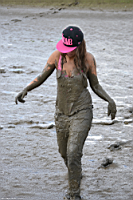 Movie of 2 friends in shorts and T-shirt, getting mud on each others clothes. They wash it off at the end.

"Here's another fine mess you got us into!"
Our friend Daphne had a mud shoot when she noticed another girl we had with us for something else.
Interested in her and the experience of girl/girl mudplay, she asked Mandy if she wanted to 'assist her' in poring vegetable oil over her.
Hm hm.. soon they got each other oily and when it started to rain, there was enough mud to go around!
Notice how Daphnes white shirt hardly gets stained because of all that oil! Great set of two great girls.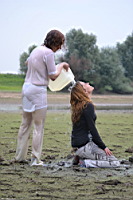 Movie of Lien in jeans and a sliding top, she carefully gets into a puddle of mud,
but gradually as she gets more dirty, she gets more brave!

Melanie in a pink Adidas jacket and shorts puts wet mud over her clothes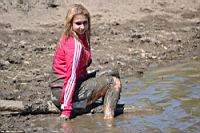 '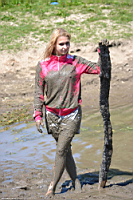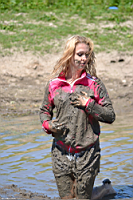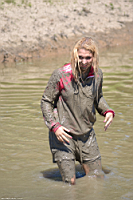 Movie of Carola in jeans and blouse. In a relaxing way she tries to create a little mud spot.
There she covers herself and feels the mud between her fingers. The washing-off part is NSFW :-)

Veronique in hotpants and a very wide pullover takes a spin in the mud!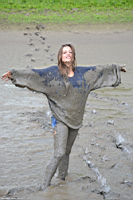 Valerie and Leonie in plaid skirts and little black tops play and (friendly) fight in the mud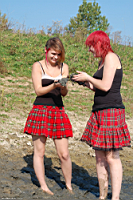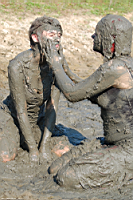 Naughty Daphne is back! She is one hell of a mudmodel! She first has a fag, then takes a big leap and splashes into the mud!
At the end she takes off nearly all her clothes to get completely muddy for you.

Double feature movie of Chrissy!
First we see her creating her own little mudpuddle, getting her clothes gradually muddy.
After she is all dirty, you get a backstageview of her washing up

Tanja in an all white outfit with a knee length white skirt and a white jacket over a white top.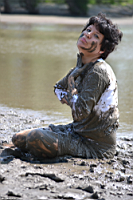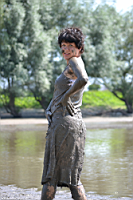 New girl Veronique in jeans, white sneakers and black jacket over a white tank top takes her very first dive into our mud!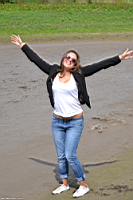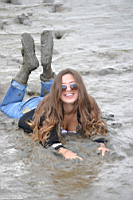 Laura in daunenjacke/body warmer over a red pullover and tight black pants on good sneakers!

Great movie of Amber and Jessica in camouflage wear.
They play and sink in the mud, getting fully covered!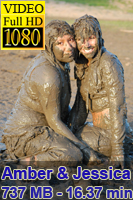 Patricia is very wild in good mud! She is wearing a ass-enhancing jeans with a vest made of wool and denim.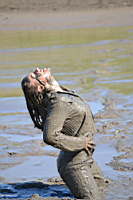 Melanie in a flower dress first rubs herself with clay and mud, then finds a spot to roll around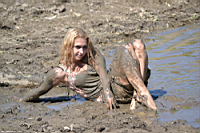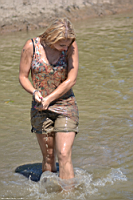 Great movie of Merel in jeans and an orange polo getting muddy with pleasure!

Big set of new girl Tanja in long white skirt and thin white blouse without bra. She finds a mud puddle and is no longer white.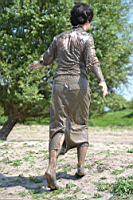 Long downjacket or daunenjacke in the mud! Laura in black pants and sneakers wears a think blue coat which she gets totally muddy!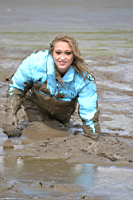 New girl Daphne is a real wamfan, but she never tried mud before. So we invited her to our mud pit and have a taste.
Well, she loved it so much, she even ripped her white clothes off to feel the scrub on her skin!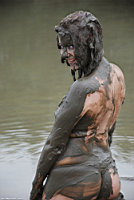 30-minute movie of intense mud play!
Valerie & Leonie are both wearing gowns with loads of tulle in them.
They first pose elegantly, but soon they start there own mud fight, not sparing the dresses at all!

She is beautiful with and without mud: Patricia dives face first in the slimy clayish mud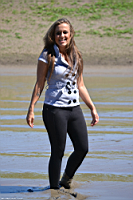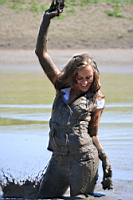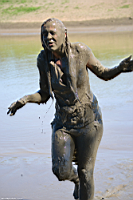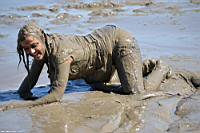 Melanie on flat shoes, a straight denim jeans and a nice black blouse rubs herself with mud.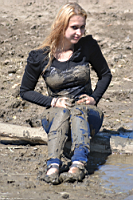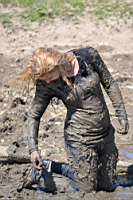 Movie of Amy in nice satin blue dress, getting herself muddy and laughing a lot!

From pretty blonde to mudmodel, new girl Laura has fun in the wet muddy swamp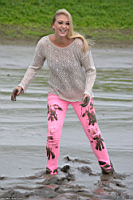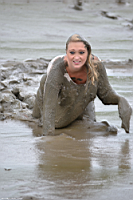 Sam digs her own mud hole and plays funny with the dirt. She has no problem covering her face.
A sudden change in the weather ended this session, but with some washing off afterwards and enthusiastic mudding!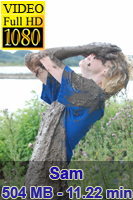 Sylvie in black dress creates her own mud hole and covers herself completely before washing it off again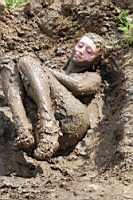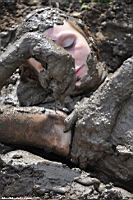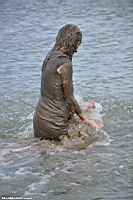 Lieneke in Only jeans and sweater with a white tanktop underneath enjoys a good mud bath in the sun!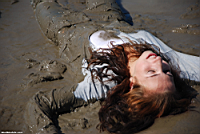 Szilvia in a kappa trainer and England jacket she runs through a muddy area,
splashing in undeep water and finally getting herself all muddy.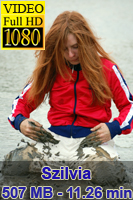 500 pics of Melanie on soft sneakers, a dark blue pants and a striped top under a pink vest.
She plays with the mud to get her clothes dirty, the vest comes off halfway.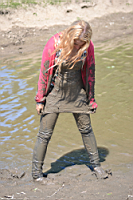 Wonderful set of 950 pictures, telling the story of Merel, from trying on her wedding dress (a Dale Lindsay!) at home to
putting on her make-up wearing only her white under dress. She then wears a 6-layered dress complete with wedding shoes, tiara
and jewelry. She poses in nature and gets her dress a little dirty. Then there is no holding her back anymore, she gets dirty!

Movie of Amy and Mandy, sitting on a muddy shore, putting mud on each other until they are covered in it.
At the end they wash it off in the nearby pond, they have fun the whole time :-)



Very big set of very muddy girls Amber and Jessica.
They play and fight getting all covered in good mud!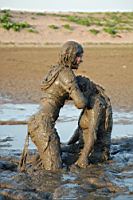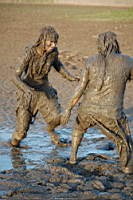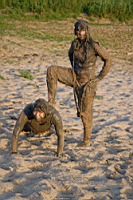 Cute Ingrid in white outfit is building her own dyke of mud to create a place to roll around in.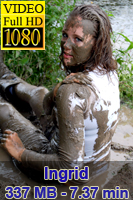 By special request we have made a film about what happens after the mud shoot.
You will see Femke washing herself, trying to get the mud out of her hair and clothes.

Szilvia in gray pants and blouse sits on the shore of a lake, using the mud she finds to turn herself into a work of art.
And to prove mud isn't that bad for your clothes, she washes it off at the end :-)

Lovely Ania on bare feet in well-filled jeans and in a purple hoodie pullover slowly wades in wet mud.
She gets her pants dirty, then rolls around giving herself a healthy skin treatment.
At the end she washes herself.

Long movie of Merel on pink Mustang boots, a Levis red label jeans and a red shirt under a pink jacket.
She walks into a dried up lake and soon she is completely covered in mud! And she likes it :-)

Great movie of chubby Jessica, with a nice muffin top.
She is wearing denim jeans and a blouse, which she first gets muddy. After that, she rips them to pieces.
She has lovely long, black hair and an American-Indian look, she's so very cute!

Cute and pretty Amber in pants and shirt has her first taste of mud, posing and rubbing it,
giving herself a skin treatment better than in a beauty parlor! :-)

Valerie and Leonie are both wearing a plaid skirt, and barefoot. They walk into a muddy shore and start making their own wet mud.
Then they put mud all over their own clothes and over each other, slowly and gently, enjoying the wellness for their skin and the fun of
doing something that you aren't supposed to do :-)

Nice long movie of Ingrid in her very first 'Trash the Dress' where she ruins a lovely Roman style gown by taking it into the mud.
It's an original Dale Lindsay dress with 4 layers, and real expensive weddingshoes.
She has a lovely smile and enjoyed this new experience!

Liliane on sneakers, wearing a jeans and a pink pullover. She experiments with some mud, but it's not really her thing.
The hot shower afterwards she enjoyed much more ;-)

Lovely Merel is wearing Nike Shox, a white jeans pants and a white pullover.
She found a dried up swamp and manages to find some great, black mud.
Soon her clothes are covered in mud, at the end she tries to wash it off in a lake, but the white clothes stay gray!
Sounds like a job for Vanish Oxi Action ;-)

Movie of Valerie getting very muddy.
She is wearing white shorts and a shirt, but manages to get it gray in just 14 minutes :-)
She even puts mud on her freshly painted red hair.

Tess and Valerie are very vanilla and kissing.
They're both wearing nice jeans and slowly get each other dirty with mud.

enora is wearing tight leggings and a shirt under a top when she gets into a pond.
The shore is very muddy, so she soon gets black from the mud.
She even covers her face in it! At the end some nice washing off.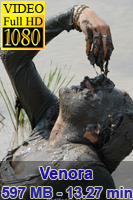 Trash the dress: Mandy is wearing a shiny white weddingdress with 6 layers, gloves, jewelry, matching shoes and a tiara!
She obviously enjoys it very much! It's a nice way to do something creative, so if you have your dress still hanging around somewhere,
let us do something funny with it! Write us :-)

Ingrid in a brown dress and long leather boots finds a spot near a lake where she can create her own mudbath.
She mixes water and mud together to get a good fluid kind of mud to put on her clothes, face and hair. Pretty girl with nice curly hair.

Especially for the fans of washing the mud of, Szilvia takes her blue pullover in a lake and washes the mud of her hair and clothes.
At the end the top comes off, and she manages to get almost clean again.

Great movie of Tess and Valerie, two crazy girls that play, laugh, talk and enjoy getting muddy!
Tess is wearing Pink Buffalo boots and Valerie little brown boots.

Nice movie of Ania with her well-build-behind in a wide jeans and a shirt.
First she walks around in sucking mud, then decides to play with the more wet mud.
She then gets herself completely mudded, and doesn't forget her face :-)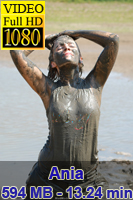 If you join now, you will get loads of material.... But we do remove older stuff off the site!
Below are some of the movies you missed... Or you can just download our backcatalogue at www.wetlookstore.com

REMOVED: Merel in her very first 'Trash the Dress' where she ruins a 2000 € wedding dress by taking it into the water and mud.
It's an original Dale Lindsay, very full white sparkling tulle gown with 9 layers and an underdress, real expensive shoes, and some jewelry.
This bride gets muddy! Note: REMOVED)
---